In the heart of the Basilicata there'è a steel cable between 1415 and 1452 meters long suspended between two peaks, which connects the villages of Castelmezzano and Pietrapertosa: two towns, two histories, two origins and two traditions, but both so beautiful that they are part of the Club "I borghi più belli d'Italia".
You canò decide whether to start from Castelmezzano or Pietrapertosa, but in both cases the bases of launching are reached along a long and fascinating uphill route. Along the way you can meet tourists and fans from all over Italy, but also from different parts of the world, who have come to Basilicata to visit the treasures of Southern Italy and experience the thrill of flying.
If for the most fearful people the jump into the void seems impossible, the special steel harness will give you the right security to let you go in a fantastic experience and fly with the utmost tranquility, enjoying the extraordinary panorama of the Lucanian Dolomites. You can make single flights and in pairs, to share a magical moment with a special person. In addition, you can fly with a camera on your helmet, to take home an exclusive video that tells of the thrill of cutting through the air at a maximum speed of 120 km / h and a maximum drop of 130 meters over the valley.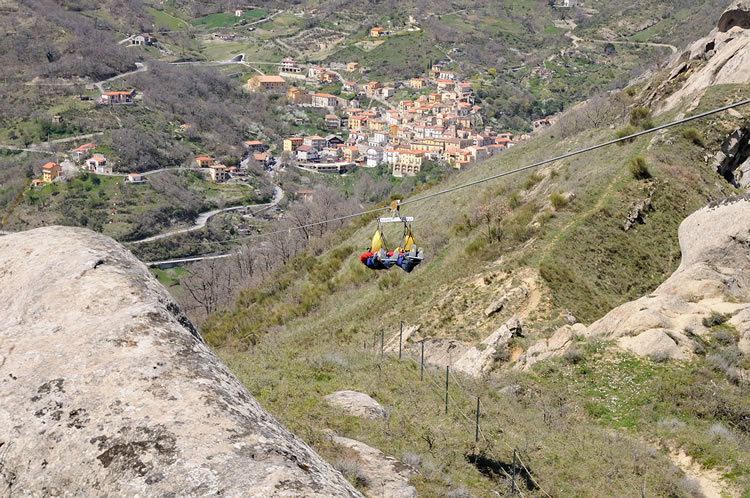 È it is advisable to make the round trip in the day, so you can also visit both villages and maybe enjoy a good lunch of local products, such as the peperoni cruschi, peppers dried in the sun and fried in hot oil typical of Lucanian cuisine, so crispy that in eating them do "crunch".
If, on the other hand, you are thinking of staying a little longer, you can spend a weekend in close contact with nature, passing through the PNepalese Bridge hanging over the Caperrino Stream, a tributary of the river Bradano, to the literary route of the seven stones, crossing the via ferrata and concluding, in fact, with the exciting and adrenaline-filled flight.
Visiting the official website www.volodellangelo.com you can find more information and discover the many related events organized in the two countries to plan an alternative and really suggestive vacation. In a few weeks, moreover, you will be able to soar in the air with balloons to admire the spectacle of the rocky summits with the most imaginative names: the Owl's Beak, the'Golden Eagle, the Great Mother, the'Anvil.
Travel proposals in this territory
4×4 off-road trip in Italy in the area between Molise, Basilicata, Apulia and Calabria, once the Kingdom of the Sanniti
Interested villages: Metaponto, Montescaglioso, Craco, Castelmezzano